Posted: April 1, 2013
Filed under:
Shakespeare
| Tags: all-female shakespeare, as you like it, hamlet, LAWC, measure for measure, merchant of venice, much ado about nothing, othello, richard iii, romeo and juliet, the tempest, twelfth night
Comments Off
For twenty years now, the L.A. Women's Shakespeare Company has been staging Shakespearean plays with an entirely female ensemble. Later this year (August 17-October 4), the company will take on Shakespeare's greatest tragedy, Hamlet, with LAWSC founder and artistic director Lisa Wolpe in the title role.
In 1993, the LAWSC was completely funded by private donations and played in the very small Hollywood Actor's Theater. However, the company soon won a grant and were able to expand beyond the fifty-seat capacity of their original home and played larger venues. Eventually, the company was able to offer their players and support personnel a "modest stipend" but to this day, the company continues to be "volunteer-base[d]" and a "grass-roots company" even as their audiences continue to grow.
Past productions have included Romeo and Juliet (1993); Othello (1994); Richard III (1995); Much Ado About Nothing (1996); Measure for Measure (1997); Twelfth Night (2000), The Tempest (2002); The Merchant of Venice (2005);  and As You Like It (2007).
So the big question: why an all-female cast? Because an all-female troupe can cause a "transformation of the perceptions of women's roles in our society by working to create a deeper, more powerful, unbounded view of women's potential." Furthermore,  the  "productions illuminate contemporary issues through a classical context, offering a unique political and social perspective." The mission of LAWSC is "to provide a creative forum for the exploration of violence, victimization, power, love, race, and gender issues, and to provide positive role models for women and girls."
The production met its $10,000 Kickstarter funding goal, but the company is hoping to raise a total of $40,000. If you would like to support this or future projects, click here. Check out the video below for a sample of Lisa Wolpe in action as Iago in Othello!
---
Posted: February 6, 2013
Filed under: history, Shakespeare
| Tags: archaeology, elizabeth i, henry vii, richard iii, richard iii found, Shakespeare, the guardian, university of leicester, wars of the roses, william shakespeare
1 Comment
Fellow Shakespeare nerds! Now is the winter of our discontent, made glorious summer by this finding of one twisted old skeleton at the bottom of a car park. That's right, the long lost body of the last Plantagenet king, Richard III, is now found!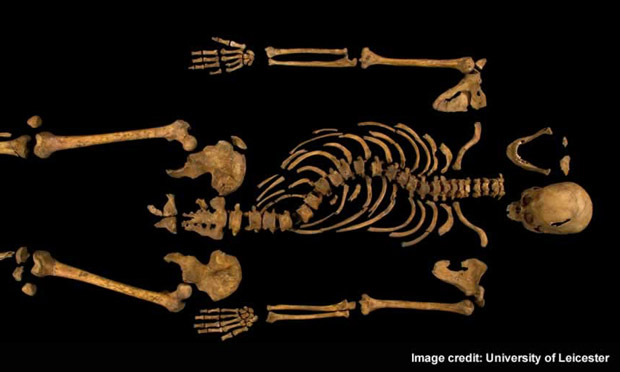 For a while now, archaeologists determined to uncover Richard III's body, long since presumed to be lost to history or dissolved at the base of a river bed, have suspected a Leicester car park to house his remains. Unglamorous as it is for a royal burial site, the lot was built over the site of the old Grey Friars monastery in which some records report Richard was interred. Last September, all the drilling and digging away of 500 years' worth of debris paid off, as the research team pulled from the earth the twisted skeleton of a man killed in combat. Despite the seemingly obvious evidence before them–that the 15th c. skeleton of a man with a deformed spine was found exactly where King Richard's body was said to be buried–the researchers held the body's identity in question until only yesterday. On Monday, February 4th, a day that will forever go down in Corpsegate history, a press conference on the scale of a hot young pop star's perfume launch descended on the University of Leicester, and the Guardian was there to deliver it to the greedy public in real time. Because who doesn't want to receive minute by minute updates on a 500 year old, unidentified corpse? Nobody.
Well, maybe Cambridge academic Mary Beard didn't:
But whatevs. Finding Richard's body can totally lay to rest the pesky rumors that have haunted his reputation since his fateful death at Bosworth Field in 1485.
Richard III was embroiled in a bloody British civil war during the 1400s. This period was named the Wars of the Roses for the emblems of the two feuding royal families–a white rose for the house of York (Richard's), and a red rose for the house of Lancaster. York eventually lost the crown, and Richard of Gloucester's death in the Battle at Bosworth Field signified the end of a thirty year war. His defeat came at the hands of Henry Tudor, who was subsequently crowned Henry VII–father of Henry VIII and grandfather of Elizabeth I.
Enter the Renaissance and the Elizabethan golden age. Eager to impress his Tudor queen, Shakespeare wrote histories that painted the house of Lancaster in a favorable light. But no monarch presented quite as much opportunity for propagandizing as Richard of Gloucester; labeled for centuries as "deformed," Richard's image only worsened when Shakespeare penned him as the evil, scheming hunchback, the killer of two young princes, an incestuous savage.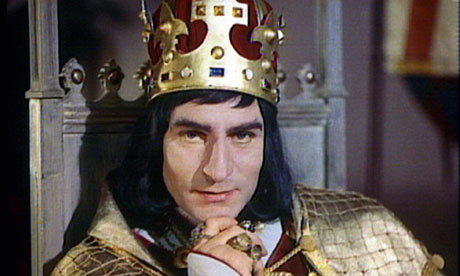 In actuality, Richard's lopsided figure has been speculated before as resulting from his skills at archery–the thought being that one side became overdeveloped, causing a curvature of the spine. No word on the pathology of the skeleton's misshapen back has been released, however, except to say that it was not caused by scoliosis. Still, the conflicting accounts reveal the murkiness surrounding Richard III's legacy.
Because in fact, Gloucester made some rather liberal reforms in his time, the most prominent of which stand to this day:
In December 1483, Richard instituted what later became known as the Court of Requests, a court to which poor people who could not afford legal representation could apply for their grievances to be heard. He also introduced bail in January 1484, to protect suspected felons from imprisonment before trial and to protect their property from seizure during that time. He founded the College of Arms in 1484, he banned restrictions on the printing and sale of books, and he ordered the translation of the written Laws and Statutes from the traditional French into English.
And although most people already know that Shakespeare's play was more fiction than history, the unfair image of an old, withered, and bitter king has been a hard one for poor Richard to shake. Now the recovery of his old, withered skeletal remains might not be much help with altering that, but if anything it puts a face, nay, skull to a tired myth. The skull that proves Richard was mercilessly treated by both his captors and history, as he was laid to rest beneath a whole lot of ugly European hatchbacks forever.
For all the juicy updates from the University of Leicester press conference, check out that Guardian article here. And if you're suddenly starting to miss that heinously evil version of ol' Dick, well we've got some dastardly Richard III quotes to devour here.
---