Posted: May 30, 2013
| Author: jwheeler1967
|
Filed under: Authors and Poets, Awards, Books, Novels
| Tags: nobel prize for literature, open road media, pearl s buck, the eternal wonder, the good earth
|
1 Comment
I live for stories like this. My children are regularly subjected to garage and estate sales.  They tap their feet and emit long, angsty, teenage sighs as I go through ancient, musty-smelling boxes, looking and hoping for such a gem.
It happened to someone. After forty years, an unpublished manuscript by Pearl S. Buck has been discovered in a Texas storage unit.  The New York Times reports that the manuscript was returned to Buck's family "for a small fee."  How the manuscript came to be in Texas is a mystery;  Buck, a West Virigina native,  never lived in Texas, nor did she have family in Texas.
Although Buck's best-known work today is The Good Earth, in the early twentieth century, many of her other works were widely read. A prolific author, Buck wrote dozens of novels, works of non-fiction, and short stories. In 1938, she was awarded the Nobel Prize in Literature, the first woman upon which the honor was bestowed.
The new novel titled  The Eternal Wonder is described as ""the coming-of-age story of Randolph Colfax, an extraordinarily gifted young man whose search for meaning and purpose leads him to New York, England, Paris and on a mission patrolling the DMZ in Korea that will change his life forever — and, ultimately, to love."
The publisher, Open Road Integrated Media, says the novel will be released on October 22, 2013, in both paperback and eBook formats.
---
Posted: October 11, 2012
| Author: jwheeler1967
|
Filed under: Authors and Poets, Awards, Books, Books & Movies, Novels
| Tags: china, chinese, chinese fairy tales, dissident writers, falling rain on a spring night, gabriel garcia marquez, life and death are wearing me out, literature, magical realism, mo yan, nobel committee, Nobel Prize, nobel prize for literature, red sorghum
|
2 Comments
This morning, the Nobel Prize for Literature was announced.  The committee has granted the prestigious award to 57-year Chinese  author Mo Yan. In its press release, the Nobel Committee says that Mo Yan was selected for his writing that merges "hallucinatory realism (with) folk tales, history and the contemporary."
The choice, though widely lauded, has its critics as well. Although the subjects Yan typically writes about are "non-political," the writer has been embraced by the Communist Party, something that gives dissident writers and others pause.
Despite political concerns, few would argue that Mo's work is not brilliant. His subject matter typically examines rural Chinese life through magical realism. Mo's penchant for narrators like talking animals and his inclusion of elements from Chinese fairy tales has drawn comparisons of his work to that of Colombian author Gabriel Garcia Marquez.
Perhaps Mr. Mo's best-known work in the Western world is his novel Red Sorghum. Published in 1986 and translated into English in 1992, Red Sorghum is a bandit-laced tale about the trials of life for rural Chinese. The novel was made into a movie in 1987.
Born in the eastern Chinese province of Shandong in 1955 to farming parents, Mo Yan is the pen name of Guan Moye.  Mo was a teenager during the Cultural Revolution. For several years, he took various agricultural jobs and then joined the People's Liberation Army. His first short story, "Falling Rain on a Spring Night," was published in 1981.  Many more short stories and novels have since been published. His latest, Life and Death Are Wearing Me Out, was written in 2006 and translated into English in 2008.
---
Posted: September 26, 2012
| Author: Jessica Gardner
|
Filed under: Authors and Poets, Awards, Books
| Tags: adonis, bob dylan, cees nooteboom, cormac mccarthy, gambling, haruki murakami, IQ84, ismail kadare, ko un, literature, man booker prize, mo yan, Nobel Prize, nobel prize for literature, tom stoppard
|
2 Comments
Place your bets!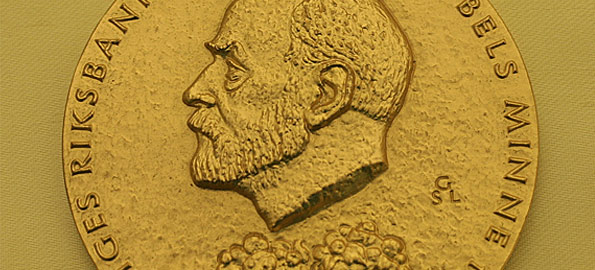 Deliberations for who will win the 2012 Nobel Prize for Literature will shortly be under way. With an impressive lineup of entries to choose from, there can be no surefire bet for who will take this coveted award. That's because currently the odds are only at 5/1 for the win.
Yes, not satisfied with the profits from gambling on sports, bookies have found a way to hedge bets on prestigious literary awards. Ladbrokes, a British betting enterprise dating back to 1886, offers odds for the 2012 Man Booker Prize and the Nobel Prize for Literature, among others.
Fancy a gamble? Here are the frontrunners as they stand now:
Haruki Murakami 5/1
Bob Dylan 10/1
Mo Yan 12/1
Cees Nooteboom 12/1
Ismail Kadare 14/1
Adonis 14/1
Ko Un 14/1
Murakami has a clear lead with far safer odds than his fellow nominees. His most recent work, IQ84, was translated from Japanese in 2011, and has received high acclaim from both critics and readers.
Bob Dylan is slightly more out of place this high in the list. Though his chances may appear strong, they're deceived by his popularity. Those placing bets are more likely to choose a name that's familiar to them. Gamblers loyal to him placed £100-plus bets that shot him up the list, from 100/1 to 10/1, bounding past far better respected writers Tom Stoppard and Cormac McCarthy (both 16/1). Ladbrokes' spokesman Alex Donohue puts Dylan's chances rather bluntly,
We're happy to 'fill the satchel' in bookmaking terms as we expect the Dylan backers to part with their cash again this year.
And if that doesn't seal his fate for you, perhaps Swedish nobel panel member Horace Engdahl's "professed hostility for 'parochial' American writing" will–alongside MA Orthofer's sound advice:
If you know anyone who has actually generously donated money to Ladbrokes by 'betting' on him please try to get them professional help, either from a psychiatrist or an accountant.
Yes, I think that says it all; no Nobel for Dylan this year folks.
If you can't put a face to the names in the 3rd and 4th spots, it might be because they're newcomers to the Nobel scene. Mo Yan is a subversive author, once described by a TIME article as "one of the most famous, oft-banned and widely pirated of all Chinese writers." Nooteboom, a Dutch writer, enters the longlist for the first time in his extensive career, having published his first novel in 1955 at the age of 22. 46 of this year's 210 nominees are first-time candidates for the prize.
Notable writers from further down the list include Philip Roth (16/1), Joyce Carol Oates (33/1), Ian McEwan (50/1), Margaret Atwood (50/1), Salman Rushdie (66/1), Ursula LeGuin (66/1), and–winner of the 2011 Man Booker Prize for The Sense of an Ending–Julian Barnes (66/1).
So how accurate are the odds? Last year the winner of the prize, Swedish poet Tomas Tranströmer, was given 9/2 odds, behind the favorite to win, Adonis, a Syrian poet who still ranks high on the list this year at 14/1. Therefore, Murakami isn't a completely safe bet, but his chances are looking rather strong.
Deliberations will begin in about a week's time. The announcement date for the winner has not yet been released.
---