Posted: June 7, 2013
Filed under: Books, Novels, Top 10
| Tags: a christmas carol, a clockwork orange, a midsummer night's dream, beer, dante's inferno, drinks, literary drinks, literature, moby dick, oscar wilde, the catcher in the rye, the grapes of wrath, the little prince, the raven
Comments Off
It's Friday! Time to kick back with a summer read, dig your toes into the sand, and crack open one of these beauties. Who said beers couldn't be high-brow?
White Whale Ale
Yes, it is actually made with pages ripped from the seams of Herman Melville's Moby Dick.
Lament on love and loss, and forget about that self-obsessed rose already.
The Raven Special Lager
I actually had this once. Nevermore, nevermore.
---
Posted: June 5, 2013
Filed under: Books, Books & Movies, Novels, Opinion, Top 10
| Tags: charles dickens, clarissa, confederacy of dunces, dante, dante alighieri, David Foster Wallace, divine comedy, e l james, fifty shades of grey, freedom, great expectations, herman melville, infinite jest, john kennedy toole, jonathan franzen, jrr tolkien, led zeppelin lord of the ring, lord of the rings, lotr, moby dick, paradisio, purgatorio, samuel richardson, stephen king, stephen king on writing, tristam shandy, viggo mortensen
1 Comment
My home is filled with books. Books on shelves, books overflowing shelves, books on my nightstand, in the kitchen, in the bathroom, on the floor. Most I manage to get through, if not always enjoy. I am a big believer in seeing it through.  Most of my friends feel the same way. AND YET… there are always a few that we just cannot seem to finish.  Some are classics that we know we should complete before the inevitable Rise of the Librarians comes to quiz us with tasers. Others are books friends raved about….or best sellers that have evoked a lot of fuss…for no reason YOU can discern.
Whatever the reason, here are confessions of my well-read friends and colleagues, many of them English professors, so I will have to give them Code Names so their students never find out their dark, dark, secrets.
1.  Moby Dick by Herman Melville
Dense passage about the physiognomy of whales: the poor man's Ambien.  We all know that this should be read. And many of us keep trying. It's our own…. yeah, you guessed it… Moby Dick (Insert groaning here.)
2.  The Lord of the Rings by J.R.R. Tolkien
More Viggo Mortensen would have made this seemingly-endless series more interesting for me. Skipping the endless "songs" moves things right along though. Save yourself some time and listen to some Zep to catch up on everything you need to know about what you glossed over.
3.  Paradisio by Dante Alighieri 
Another popular snooze-fest, this comment sums up our feelings in general:
 "I can't finish Paradisio. The torments of The Inferno and even Purgatorio appeal to my sense of schadenfreude, but people in heaven and Beatrice? BO-RING."
4.  Anything by Stephen King 
I must say, in King's defense, that his text On Writing  is one of my favorites. However, King, to me, and many others, is like the Costco of literature. Do you really need that giant box of paper towels? Or that giant stack of largely interchangeable plots and characters?
---
Posted: February 12, 2013
Filed under: Arts, Books, Novels
| Tags: classic literature, classic novels, classics, cozy classics, les miserables, moby dick, pride and prejudice
1 Comment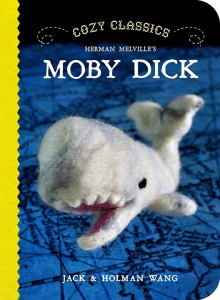 Who hasn't read a 1,488 page epic of the French Revolution and thought, there should really be a version of this for infants. Nobody. Finally, two brothers are filling the void of classic literature for children under the age of 3. Okay, all mockery aside this is actually seriously cute. (So cute I had to borrow the felt versions of Darcy and Bingley for the cover of our latest Kindle Fire competition.) Meet "Cozy Classics":
Brothers Jack and Holman Wang teamed up in 2012 to create Cozy Classics, an infant primer board-book series that adapts classic novels into twelve simple,  words that appear alongside photographs of handmade figurines. The brothers create the characters, sets, and props themselves through the painstaking process of needle-felting, a handcraft that involves the shaping of woolen fibers with a barbed needle. Each figure takes between eighteen and twenty-five hours to create. The first two titles—Herman Melville's Moby-Dick and Jane Austen's Pride and Prejudice—were released this past November by Vancouver-based Simply Read Books; the next release, a cozy take on Victor Hugo's Les Misérables, is forthcoming in April.
Here's a glimpse of each of Cozy Classics' titles so far, every page accompanied by its child-friendly word. Though the series may be developed for children, I have to say these might be too adorable (and adultly ironic) not to pick up for myself. Look for them in an Urban Outfitters near you soon.
To find out more about Cozy Classics, head to its website here. Still to come in Spring 2013, the Cozy version of War and Peace!
---