Posted: June 27, 2013
| Author: jwheeler1967
|
Filed under: Authors and Poets, history, Poetry, Top 10
| Tags: chairman mao, dominique bouhours, emperor julian, jfk, john connally, john f kennedy, joseph henry green, king george v, mao zedong, marie-antoinette, mary surratt, nellie connally, saki, samuel taylor coleridge, voltaire, w.s. merwin
|
Comments Off
The thing that is so fascinating about a person's final words is, of course, that the person rarely knows those  utterances will be his or her last.
One of my favorite poems is W.S. Merwin's "For the Anniversary of My Death":
Every year without knowing it I have passed the day

When the last fires will wave to me

And the silence will set out

Tireless traveler

Like the beam of a lightless star

Then I will no longer

Find myself in life as in a strange garment

Surprised at the earth

And the love of one woman

And the shamelessness of men

As today writing after three days of rain

Hearing the wren sing and the falling cease

And bowing not knowing to what.
Here are ten of those now-famous, or at least, interesting, last words:
"Pardon me, sir. I did not do it on purpose." – after she accidentally stepped on the foot of her executioner as she went to the guillotine.
"I am about to — or I am going to — die: either expression is correct."
"Bugger Bognor."" – to his physician, who had suggested that he relax at his seaside palace in Bognor Regis.
---
Posted: November 5, 2012
| Author: jhgardner
|
Filed under: Authors and Poets, Poetry
| Tags: abraham lincoln, dylan thomas, george washington, jfk, literature, Poetry, politics, president, robert burns, Robert Frost, US presidents
|
Comments Off
It's voting time! In the spirit of the culmination of the presidential election tomorrow, below is a list that highlights historic presidents' more poetic attributes. Ever wondered whose poetry Thomas Jefferson cozied up with? Or which past president favored the eccentric Welsh poet Dylan Thomas? Read on to find out…
George Washington and Phillis Wheatley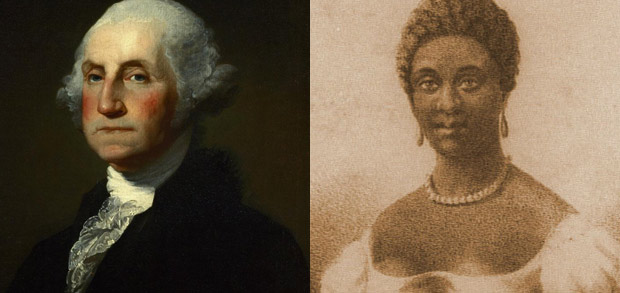 He was the first president of the United State, she was the first African-American woman to publish a collection of poetry. In 1776, she sent Washington a poem that praised the general's leadership. In reply he told her that, were she ever in town, he would "be happy to see a person so favoured by the Muses."
Now here, now there, the roving Fancy flies,

Till some lov'd object strikes her wand'ring eyes,

Whose silken fetters all the senses bind,

And soft captivity involves the mind.
Thomas Jefferson and Thomas Moore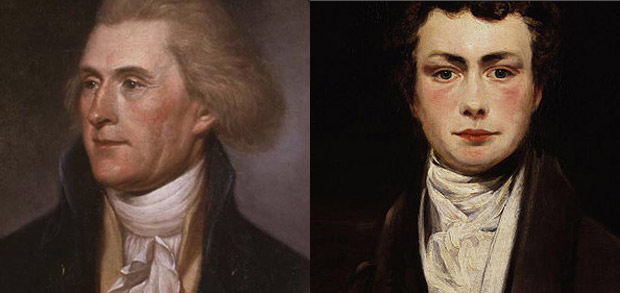 Irish poet Thomas Moore was unimpressed with President Jefferson when he met him in the early 1800s, influenced by his friend, the British Minister to the States. Moore unkindly described Jefferson's home as in a "state of uncleanly desolation." But "years later, when Jefferson read Moore's poetry, he exclaimed, 'Why, this is the little man who satirized me so! Why, he is a poet after all!' Moore became one of Jefferson's favorite poets."
I feel like one

Who treads alone

Some banquet-hall deserted,

Whose lights are fled,

Whose garlands dead,

And all but he departed!
John Quincy Adams and Christoph Martin Wieland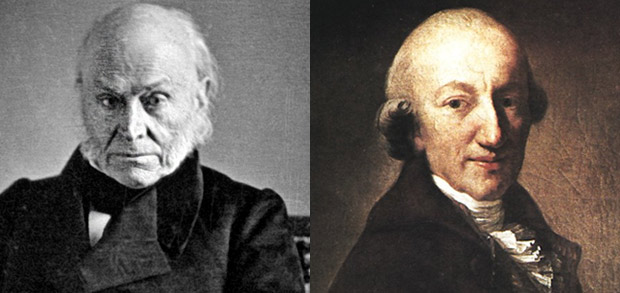 Turns out sixth president John Quincy Adams fancied himself a bit of a poet. In 1816 he declared, "Could I have chosen my own genius and condition, I would have made myself a great poet," though he reconciled that his own poetry was "spell bound in the circle of mediocrity." He fared better in translation, attempting to translate one of his favorite poets–Wieland–from German. Adams did abandon the attempt to translate the epic poem Oberon when he came across what he felt was a better translation. As a result it went unpublished until 1940.
Abraham Lincoln and Robert Burns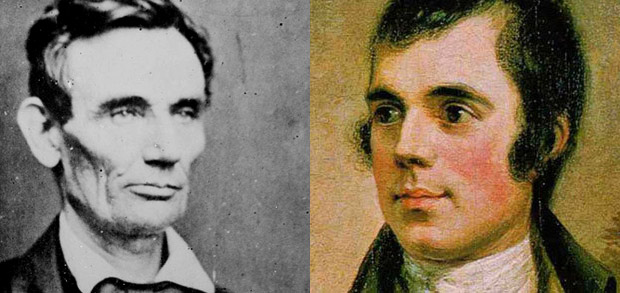 Lincoln so admired the poetry of Scotsman Robert Burns, he actually declined making a toast to the poet at a banquet in Burns' honor, saying, "I cannot frame a toast to Burns. I can say nothing worthy of his generous heart and transcending genius. Thinking of what he has said, I can not say anything which seems worth saying." Lincoln committed many of Burns' poems, like the one below, to memory.
Ae night the storm the steeples rocked,
Poor Labour sweet in sleep was locked,
While burns, wi' snawy wreeths upchoked,
Wild-eddying swirl,
Or thro' the mining outlet bocked,
Down headlong hurl.
Harry S. Truman and Alfred, Lord Tennyson
Of all of Tennyson's poems, one struck a particular cord with President Truman, so much so that he carried a copy of "Locksley Hall" in his wallet from the time he graduated high school in 1901 onwards.
"The paper I copied it on kept wearing out, and I kept recopying it. I don't know how many times, twenty or thirty, I expect," Truman reportedly told the journalist Merle Miller, adding that he "had a lot more faith in poets than reporters."
An excerpt of that same poem that meant so much to Truman:
Love took up the glass of Time, and turn'd it in his glowing hands;

Every moment, lightly shaken, ran itself in golden sands.

Love took up the harp of Life, and smote on all the chords with might;

Smote the chord of Self, that, trembling, pass'd in music out of sight.
John F. Kennedy and Robert Frost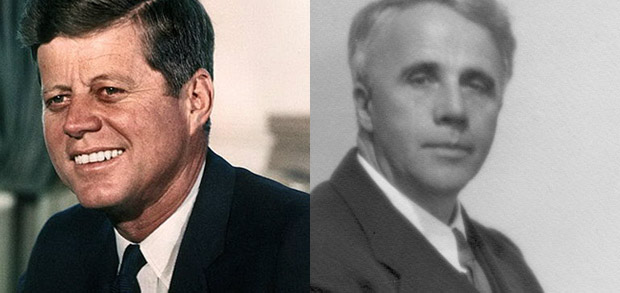 The words spoken at JFK's inauguration ("Ask not what your country can do for you…") weren't the only infamous lines read out that day. On January 20th, 1961, Robert Frost became the first poet to read at a presidential inauguration. The poet planned on reading out a poem he'd written especially for the occasion, "Dedication," but as the bright afternoon sun bounced off of the freshly fallen snow surrounding the event, he found he couldn't read his own handwriting at the podium. The 86 year-old then recited "The Gift Outright" from memory instead.
Such as we were we gave ourselves outright

(The deed of gift was many deeds of war)

To the land vaguely realizing westward,

But still unstoried, artless, unenhanced,

Such as she was, such as she would become.
Jimmy Carter and Dylan Thomas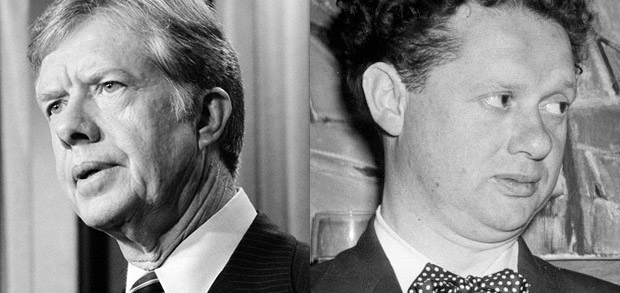 Not only is Carter a fan of Dylan Thomas' work, this former president is a great advocate for the Welsh poet. He was the impetus behind the plaque dedicated to Thomas in Westminster Abbey's "Poet's Corner," as well as Dylan Thomas Centre, a museum dedicated to the poet, in Swansea, Wales.
And you, my father, there on the sad height,

Curse, bless, me now with your fierce tears, I pray,

Do not go gentle into that good night.

Rage, rage against the dying of the light.
For five more presidents' poetic tendencies, including President Obama's, head over to this 
Poetry Foundation
 article.
---