Posted: October 31, 2012
| Author: jhgardner
|
Filed under: Authors and Poets, Books, history, Novels
| Tags: artifacts, bram stoker, dracula, dracula desk, halloween, horror, literature, writing desk
|
2 Comments
Here's something you won't find in Craigslist's classifieds…
The writing desk at which Bram Stoker created the bloodcurdling modern myth of Dracula will soon be up for auction.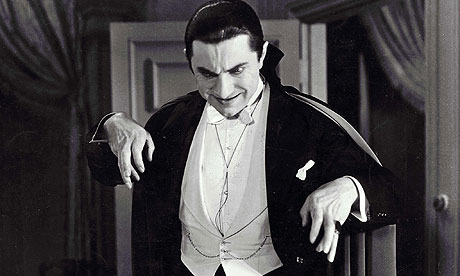 Looking at the ornate desk today, which seems so fitting as the gothic setting for the creation of perhaps the most chilling book in English literature, it's hard to believe it was salvaged from near ruin not very long ago. Yes, this artifact, like all good curiosities, has its very own story…
After Stoker completed Dracula in 1897, he gifted the writing table to his good friend JSR Phillips, editor of the Yorkshire Post. According to an article in that same newspaper, the desk was later passed down at Phillips' death to his son ER Phillips. Unfortunately, the younger Phillips' wife so disliked the relic that she banished it from the house to rot in the garden for years.
It was the Phillips' son Guy, grandson of JSR, who saved the desk from complete ruin by taking it with him to London. But though he knew the history of the Dracula desk, Guy then left it behind in that London apartment when he moved away. Its next owners, the Brodericks, had no knowledge of its famous origins until they received a note from Guy Phillips later, explaining its history and hinting at its dark powers.
"I loathed the Dracula desk. But it is a fact that after leaving it behind, I and my family suffered misfortune after misfortune. I had two coronaries and my wife died suddenly of a stroke."
Even after receiving the note, the Brodericks almost relegated the desk to destruction, casting it off to their neighbors the Yulls. At this point, the desk was in such bad shape that Mrs. Yull very nearly cast it off to a bonfire. It was only saved by her husband, who insisted it be put in his study and used as his computer desk. Interestingly, it was at the Dracula desk that Yull wrote his first book, a novel about Nazi fascination with the occult.
Eventually, the antique made its way into caring hands. As of today the desk has been restored to more than its original glory by master furniture artist Mark Brazier-Jones, whose restorations can be found at none other than The Louvre and The Victoria & Albert Museum. He explains his reimagining of the Dracula desk below.
Even as a new desk, in its day, this was a modest item of furniture, a place for a man to work, and yet possessing a noble honesty. I wanted to keep the desk complete and intact, to save all its scars and broken varnish, this history alive with its gnarled textures…I decided to attach, via callipers and clasps the necessaries to regain functionality.  To this I have also embroidered imagery appropriate to the great man's inspirations and imaginings.  I visualize Stoker sat pen to paper contemplating a moonlit rose garden, breathless milk white cleavage and blood soaked lace.  All the fixtures and fittings I have created are in bronze and burnished steel. He has also leather lined two secret compartments I have devised (the position of which will only be revealed to the final owner of the desk)…

The face panel of each drawer is acid etched through to copper and nickel layers.  The effect is to subtly represent a misty tableau of Whitby Abbey by moonlight, surrounded by gravestones and bats.  Over these drawer fronts are five bronze handles, each one different.  On the lower left, a bat, to the lower right, a savage hound (in Stoker's book Dracula arrived in Whitby as a giant dog).  The three upper drawers consist of scrolling rose thorns and buds. The interiors are lined in deep buttoned blood red velvet.  The baroque rose motif is used again where they seem to crawl up and across the table top frame giving the feeling time has stopped like an overgrown grave.
So, gone is the humble and battered desk of Stoker's time, replaced by an ornate piece of art that certainly lives up to the gothic nature of its history. Hopefully some of the desk's mysterious powers remain intact beneath all those coats of varnish, least of which is its uncanny ability to escape bonfires and garbage heaps.
The Dracula desk can be yours, courtesy of the Profiles in History Hollywood Auction for a mere $60,000 to $80,000. Look for it on sale between December 15th-16th.
Happy Halloween eNoters!
---
Posted: September 13, 2012
| Author: jhgardner
|
Filed under: Authors and Poets, Books, Obituary
| Tags: children's literature, horror, mystery, roald dahl, short fiction
|
Comments Off
My childhood would have been so barren were it not for the words of Roald Dahl, and, of course, the whimsical scribbles by Quentin Blake that always accompanied them. The BFG, The Witches, George's Marvelous Medicine, Matilda… I, like children generations before and after me, devoured these stories, more ravenous than Augustus Gloop at a certain chocolate factory. Inevitably, Dahl became my very first favorite author. Today, on what would have marked this exceptional man's 96th birthday, a look back at the gifts he left to children's and adult's literature alike, through the eyes of one who read them…
When I first discovered Roald Dahl's stories, I knew only of his illustrated children's books. Even in that genre, his imagination was unparalleled; I pored over tales of a friendly giant, an enormous peach, a magical spell that makes tortoises grow, and a marvelous medicine. They were like nursery rhymes and fairy tales, only better–the kind where the wicked stepsisters would have their feet lopped off before being squeezed into the glass slipper, or where Little Red turns out to be a carnivorous villainess, whipping the wolf into a fur coat faster than the glint off a big bad tooth. The proper kind.
A little older, I turned to Dahl's autobiography, Boy: Tales of Childhood. Excerpts like "The Great Mouse Plot of 1924″ (in which Dahl and his boyhood friends place a dead mouse in a jar of gobstoppers belonging to the "loathsome" local sweet shop owner, Mrs. Pratchett) appealed to my youthful mischief-making, but the beatings and loneliness he described of boarding school sealed serious adults as the true villains of life. It became clear where the monsters behind Ms. Trunchbull and The Witches came from.
And still, my ideas of Roald Dahl evolved as I grew older. There were entire collections of macabre short stories I hadn't been allowed to touch–"The Great Automatic Grammatizator," "Man From the South," "Royal Jelly." All deserve to be read beneath the sheets with a flashlight and a pair of trembling hands. The messy ends of Dahl's characters and the shocking twists he wove give Poe's horror stories a run for their money, any day.
To his young readers, Dahl is like a childhood friend, a comrade in the denial to abandon whimsy in exchange for seriousness. Even in his own life, Roald Dahl seemed a sort of Peter Pan figure; a WWII fighter pilot turned MI6 spy, he crossed the globe like a classic adventurer, passing through exotic locations like Tanzania, Kenya, Egypt, Libya, and Iraq, of which he wrote about in another autobiography, Going Solo. As an undercover agent he rubbed elbows with fellow spy (and James Bond creator) Ian Fleming. Rumor has it they were commissioned to woo foreign diplomats' lonely wives in search of secret information. At times, his life seems the work of pure fantasy.
In later years, Dahl took to using a colorful gypsy wagon, parked on his back lawn, as his writing space. From there he wrote more children's fiction, like Danny, the Champion of the World and The Twits. He continued to turn out popular children's stories right up to his death in 1990, at the age of 74. It's from his posthumously published final work, The Minpins, that I take this passage, one of the quotes that seems to best epitomize the author's views on fantasy and life:
Above all, watch with glittering eyes the whole world around you, because the greatest secrets are always hidden in the most unlikely places. Those who don't believe in magic will never find it.
To have grown up with Roald Dahl is to have never truly grown up. Here's hoping we never have to.
Happy Birthday Roald Dahl!
As an extra treat, here's an interview Dahl gave shortly before his death. In it, he describes the riveting story of his entry into literature.
---