Posted: January 23, 2013
| Author: jwheeler1967
|
Filed under: Authors and Poets, Quotes, Top 10, Writing
| Tags: advice on writing, dylan thomas, edith wharton, Ernest Hemingway, hemingway's home in key west, ian fleming, john steinbeck, neil gaiman, norman mailer, polydactyl cats, roald dahl, rudyard kipling, stephen king, virginia woolf, writer's desks, writer's homes, writer's houses, writer's spaces, writing advice, writing practices
|
Comments Off
"It starts with this: put your desk in the corner, and every time you sit down there to write, remind yourself why it isn't in the middle of the room. Life isn't a support system for art. It's the other way around."  ~ Stephen King, On Writing
Pictured above is Stephen King's own attic writing space at his home in Bangor, Maine.  In contrast to his statement above, his desk does appear to be in the middle of his room, but surely he means "corner" to be taken metaphorically; that is, any place that is quiet, that is yours; the place where you sit to write your work.  While there are some writers who purportedly can write in the midst of chaos, most of us require a place of retreat. I believe it was J.K. Rowling who said that she cleared out a walk-in closet, put a desk and a lamp in there, and sealed herself off from the rest of the family while she was composing her first Harry Potter novel.
Here are ten intriguing places where writer's write, along with some advice for all who write:
1.  Neil Gaiman's Gazebo/Cabin
Write.
Put one word after another. Find the right word, put it down.
Finish what you're writing. Whatever you have to do to finish it, finish it.
Put it aside. Read it pretending you've never read it before. Show it to friends whose opinion you respect and who like the kind of thing that this is.
Remember: when people tell you somethings wrong or doesn't work for them, they are almost always right. When they tell you exactly what they think is wrong and how to fix it, they are almost always wrong.
Fix it. Remember that, sooner or later, before it ever reaches perfection, you will have to let it go and move on and start to write the next thing. Perfection is like chasing the horizon. Keep moving.
Laugh at your own jokes.
The main rule of writing is that if you do it with enough assurance and confidence, you're allowed to do whatever you like. (That may be a rule for life as well as for writing. But its definitely true for writing.) So write your story as it needs to be written. Write it honestly, and tell it as best you can. I'm not sure that there are any other rules. Not ones that matter.
2.  Edith Wharton's view from "The Mount" in Lennox, Massachusetts
"Habit is necessary; it is the habit of having habits, of turning a trail into a rut, that must be incessantly fought against if one is to remain alive."
3. Dylan Thomas's Boathouse at Laugharne, Wales
"Go on thinking that you don't need to be read and you'll find that it may become quite true: no one will feel the need to read it because it is written for yourself alone; and the public won't feel any impulse to gate crash such a private party."
4.  Ernest Hemingway's Home in Key West, Florida
"Writing is something that you can never do as well as it can be done. It is a perpetual challenge and it is more difficult than anything else that I have ever done."
"There's no rule on how it is to write. Sometimes it comes easily and perfectly. Sometimes it is like drilling rock and then blasting it out with charges."
"Ordinarily I never read anything before I write in the morning to try and bite on the old nail with no help, no influence and no one giving you a wonderful example or sitting looking over your shoulder."
5. Rudyard Kipling: Dummerston, Vermont
"I am, by calling, a dealer in words; and words are, of course, the most powerful drug used by mankind."

"I never made a mistake in my life; at least, never one that I couldn't explain away afterwards."

"If history were taught in the form of stories, it would never be forgotten."
6. Ian Fleming's home, GoldenEye, in Jamaica
"All the greatest men are maniacs. They are possessed by a mania which drives them forward towards their goal. The great scientists, the philosophers, the religious leaders – all maniacs. What else but a blind singleness of purpose could have given focus to their genius, would have kept them in the groove of purpose. Mania … is as priceless as genius."
7.  Norman Mailer's Fourth Floor Apartment, Brooklyn Heights, New York
"I've written at times about the spooky element in writing. You go in each morning, and there's a blank page. Maybe it takes five minutes, maybe it takes an hour. Sooner or later you start writing, and then the words begin to flow. Where does that come from? You can't pinpoint it. You always wonder, "Will it all stop tomorrow?" In that sense it's spooky. In other words, you're relying on a phenomenon that's not necessarily dependable. " ("Norman Mailer Interview," The Academy of Achievement, June 12, 2004)
"Over the years, I've found one rule. It is the only one I give on those occasions when I talk about writing. A simple rule. If you tell yourself you are going to be at your desk tomorrow, you are by that declaration asking your unconscious to prepare the material. You are, in effect, contracting to pick up such valuables at a given time. Count on me, you are saying to a few forces below: I will be there to write."
8.  Virginia Woolf's Writing Desk at "Monk's House," Sussex, England
"Mental fight means thinking against the current, not with it. It is our business to puncture gas bags and discover the seeds of truth."
"To write weekly, to write daily, to write shortly, to write for busy people catching trains in the morning or for tired people coming home in the evening, is a heartbreaking task for men who know good writing from bad. They do it, but instinctively draw out of harm's way anything precious that might be damaged by contact with the public, or anything sharp that might irritate its skin."
"Arrange whatever pieces come your way."
9. John Steinbeck's Summer Home in Sag Harbor, Maine
"The writer must believe that what he is doing is the most important thing in the world. And he must hold to this illusion even when he knows it is not true. "
"Ideas are like rabbits. You get a couple and learn how to handle them, and pretty soon you have a dozen. "
"The discipline of the written word punishes both stupidity and dishonesty."
"In utter loneliness a writer tries to explain the inexplicable. "
10.  Roald Dahl's "The Gipsy House," Buckinghamshire, England
1.  You should have a lively imagination
2. You should be able to write well.  By that I mean you should be able to make a scene come alive in the reader's mind.  Not everybody has this ability.  It is a gift, and you either have it or you don't.
3.  You must have stamina.  In other words, you must be able to stick to what you are doing and never give up, for hour after hour, day after day, week after week, and month after month.
4.  You must be a perfectionist.  That means you must never be satisfied with what you have written until you have rewritten it again and again, making it as good as you possibly can.
5.  You must have strong self-discipline.  You are working alone.  No one is employing you.  No one is around to fire you if you don't turn up for work, or to tick you off is you start slacking.
6.  It helps a lot if you have a keen sense of humor.  This is not essential when writing for grown-ups, but for children, it's vital.
7.  You must have a degree of humility.  The writer who thinks that his work is marvelous is heading for trouble.
---
Posted: November 5, 2012
| Author: jhgardner
|
Filed under: Authors and Poets, Poetry
| Tags: abraham lincoln, dylan thomas, george washington, jfk, literature, Poetry, politics, president, robert burns, Robert Frost, US presidents
|
Comments Off
It's voting time! In the spirit of the culmination of the presidential election tomorrow, below is a list that highlights historic presidents' more poetic attributes. Ever wondered whose poetry Thomas Jefferson cozied up with? Or which past president favored the eccentric Welsh poet Dylan Thomas? Read on to find out…
George Washington and Phillis Wheatley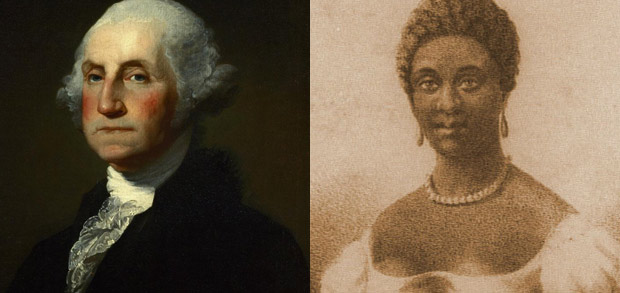 He was the first president of the United State, she was the first African-American woman to publish a collection of poetry. In 1776, she sent Washington a poem that praised the general's leadership. In reply he told her that, were she ever in town, he would "be happy to see a person so favoured by the Muses."
Now here, now there, the roving Fancy flies,

Till some lov'd object strikes her wand'ring eyes,

Whose silken fetters all the senses bind,

And soft captivity involves the mind.
Thomas Jefferson and Thomas Moore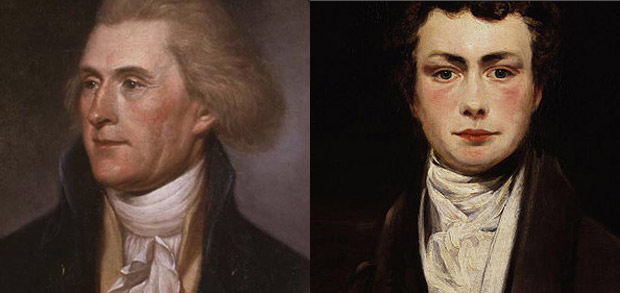 Irish poet Thomas Moore was unimpressed with President Jefferson when he met him in the early 1800s, influenced by his friend, the British Minister to the States. Moore unkindly described Jefferson's home as in a "state of uncleanly desolation." But "years later, when Jefferson read Moore's poetry, he exclaimed, 'Why, this is the little man who satirized me so! Why, he is a poet after all!' Moore became one of Jefferson's favorite poets."
I feel like one

Who treads alone

Some banquet-hall deserted,

Whose lights are fled,

Whose garlands dead,

And all but he departed!
John Quincy Adams and Christoph Martin Wieland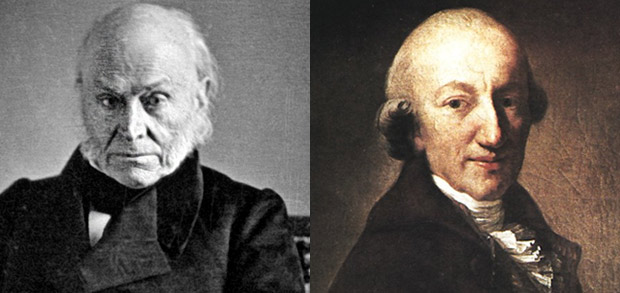 Turns out sixth president John Quincy Adams fancied himself a bit of a poet. In 1816 he declared, "Could I have chosen my own genius and condition, I would have made myself a great poet," though he reconciled that his own poetry was "spell bound in the circle of mediocrity." He fared better in translation, attempting to translate one of his favorite poets–Wieland–from German. Adams did abandon the attempt to translate the epic poem Oberon when he came across what he felt was a better translation. As a result it went unpublished until 1940.
Abraham Lincoln and Robert Burns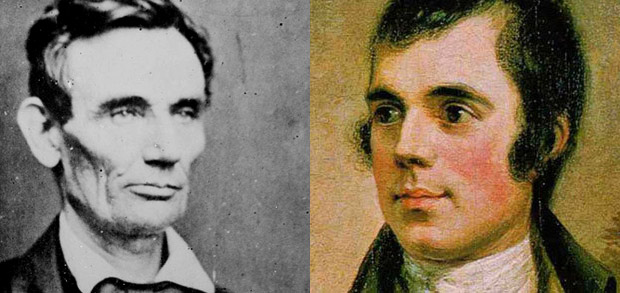 Lincoln so admired the poetry of Scotsman Robert Burns, he actually declined making a toast to the poet at a banquet in Burns' honor, saying, "I cannot frame a toast to Burns. I can say nothing worthy of his generous heart and transcending genius. Thinking of what he has said, I can not say anything which seems worth saying." Lincoln committed many of Burns' poems, like the one below, to memory.
Ae night the storm the steeples rocked,
Poor Labour sweet in sleep was locked,
While burns, wi' snawy wreeths upchoked,
Wild-eddying swirl,
Or thro' the mining outlet bocked,
Down headlong hurl.
Harry S. Truman and Alfred, Lord Tennyson
Of all of Tennyson's poems, one struck a particular cord with President Truman, so much so that he carried a copy of "Locksley Hall" in his wallet from the time he graduated high school in 1901 onwards.
"The paper I copied it on kept wearing out, and I kept recopying it. I don't know how many times, twenty or thirty, I expect," Truman reportedly told the journalist Merle Miller, adding that he "had a lot more faith in poets than reporters."
An excerpt of that same poem that meant so much to Truman:
Love took up the glass of Time, and turn'd it in his glowing hands;

Every moment, lightly shaken, ran itself in golden sands.

Love took up the harp of Life, and smote on all the chords with might;

Smote the chord of Self, that, trembling, pass'd in music out of sight.
John F. Kennedy and Robert Frost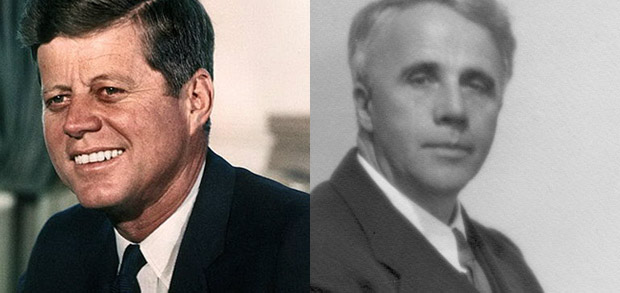 The words spoken at JFK's inauguration ("Ask not what your country can do for you…") weren't the only infamous lines read out that day. On January 20th, 1961, Robert Frost became the first poet to read at a presidential inauguration. The poet planned on reading out a poem he'd written especially for the occasion, "Dedication," but as the bright afternoon sun bounced off of the freshly fallen snow surrounding the event, he found he couldn't read his own handwriting at the podium. The 86 year-old then recited "The Gift Outright" from memory instead.
Such as we were we gave ourselves outright

(The deed of gift was many deeds of war)

To the land vaguely realizing westward,

But still unstoried, artless, unenhanced,

Such as she was, such as she would become.
Jimmy Carter and Dylan Thomas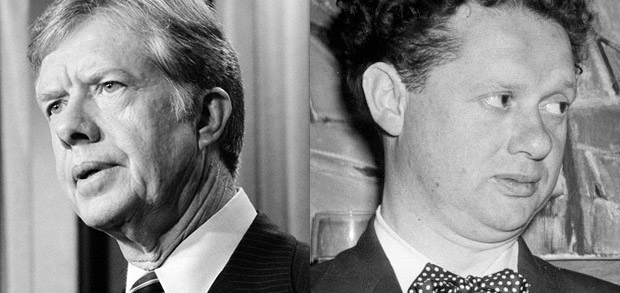 Not only is Carter a fan of Dylan Thomas' work, this former president is a great advocate for the Welsh poet. He was the impetus behind the plaque dedicated to Thomas in Westminster Abbey's "Poet's Corner," as well as Dylan Thomas Centre, a museum dedicated to the poet, in Swansea, Wales.
And you, my father, there on the sad height,

Curse, bless, me now with your fierce tears, I pray,

Do not go gentle into that good night.

Rage, rage against the dying of the light.
For five more presidents' poetic tendencies, including President Obama's, head over to this 
Poetry Foundation
 article.
---
Posted: October 23, 2012
| Author: jwheeler1967
|
Filed under: Authors and Poets, Books, Top 10
| Tags: authors, death, dylan thomas, Ernest Hemingway, gravestones, halloween, hunter s. thompson, james joyce, jane austen, johann wolfgang von goethe, l frank baum, last words, literature, writers
|
3 Comments
Halloween draws near, and with it, the reminders of our own mortality.  Ghosts and goblins are ways of coping with what George Bernard Shaw called "that troublesome business": death. And, as Jim Morrison aptly noted, "No one here gets out alive." So on that cheerful note, here are some of the last words of famous writers and images of their final resting places. At eNotes, we only haunt you with the very best!
1.  Ernest Hemingway  (July 21, 1899 – July 2, 1961)
"Goodnight, my kitten." ~ To his wife, before he shot and killed himself.
\
2.  L. Frank Baum (May 15, 1856 – May 6, 1919)

"Now I can cross the shifting sands." ~ Referring to the desert that surrounded his fictional city, Oz. Baum suffered a stroke from which he never recovered.
3.  Dylan Thomas (27 October 1914 – 9 November 1953)
"I had eighteen straight whiskies…I think that's a record."  While alcohol probably hastened the poet's demise, new theories attribute undiagnosed pneumonia as the more likely cause of death.
4.  James Joyce  (2 February 1882 – 13 January 1941)
"Does nobody understand?" No direct cause has ever been attributed to Joyce's death but his heavy drinking almost certainly played a prominent role.
5.  Louisa May Alcott (November 29, 1832 – March 6, 1888)
"Is it not meningitis?" ~ It was not, actually. Alcott died as a result of mercury poisoning.
6.  Jane Austen (16 December 1775 – 18 July 1817)
"I want nothing but death."  ~ To her sister, Cassandra, inquiring if she wanted anything. (It has never been determined from what, exactly, the 41-year-old author succumbed to (speculations have included stomach cancer, Addison's disease and bovine tuberculous) but the latest research suggests arsenic poisoning may have been the culprit.
7.  Mark Twain (November 30, 1835 – April 21, 1910)
"Goodbye. If we meet…" ~ To his daughter, Clara. Twain died of a myocardial infraction (heart attack).
8.  Johann Wolfgang von Goethe ( 28 August 1749 – 22 March 1832)
"More light!" ~ The cause of Goethe's death is unknown.
9.  Henrik Ibsen (20 March 1828 – 23 May 1906)
"On the contrary!" ~ Ibsen's response to his nurse, who remarked that he seemed better. Ibsen died as a result of complications from a stroke.
10. Hunter S. Thompson (July 18, 1937 – February 20, 2005)
"Relax — This won't hurt." ~ Thompson's final line in his suicide note. The author shot himself. An iconoclast to the end, his widow said Thomas wanted to go out with a bang, and he did. On a platform he personally designed, Thompson had his ashes shot from a cannon to the music of  Norman Greenbaum's "Spirit in the Sky" and Bob Dylan's "Mr. Tambourine Man." You can watch a video of Thompson's final farewell here.
---