Posted: June 5, 2014
Filed under: Books, Novels
| Tags: bad book covers, book covers, books, classic novels, classics, cover art, literature, novels
Comments Off
Well, no. That title probably goes to this…
Or this…
Or this…
However, it is possibly the worst cover of a classic novel ever published.
(Wait, are you saying Henry James' 1891 novel The Turn of the Screw isn't actually about screws?!)
No. It's not about screws.
We'll let you be the judge: here are quite possibly the worst covers for classics
ever

.
---
Posted: September 6, 2013
Filed under: Books, Books & Movies, Novels, Opinion
| Tags: books, classic novels, classics, literature, novels, study guides, telegraph
1 Comment
DISCLAIMER:

If you are a student assigned to read any of the following classics in school, you should ABSOLUTELY read them all the way through! Not only are they classics for a reason, but that's your job as a student, and as members of the educational community we would be remiss if we didn't point that out.
If you are, on the other hand, one of the 62% of adults who are simply willing to lie to make themselves appear smarter, well then this article is for you!
That's right, roughly 6 out of 10 adults claim to have read books they've never even opened in an effort to appear more intelligent and impress others. How do they get away with it? Mostly through movie adaptations. But why rely on a director's interpretation of Great Expectations when walking into the potentially vicious traps set by your dinner party counterparts? I mean, if you really want to get serious about appearing smarter, you'll have to study with some study guides. And what a surprise–we just so happen to have some of those! 
The top ten books people claim to have read, but haven't, are:

1984 by George Orwell – 26%

War and Peace by Leo Tolstoy – 19%

Great Expectations by Charles Dickens – 18%

Catcher in the Rye by J D Salinger – 15%

A Passage to India by E M Forster – 12%

Lord of the Rings by J R R Tolkein – 11%

To Kill A Mockingbird by Harper Lee – 10%

Crime and Punishment by Fyodor Dostoyevsky – 8%

Pride and Prejudice by Jane Austen – 8%

Jane Eyre by Charlotte Brontë – 5%

Titles that just missed the cut are The Bible (3%), Homer's Odyssey (3%) and Wuthering Heights (2%).
Be serious about appearing smarter: study smarter. Never walk into a dinner party unprepared again!
---
Posted: February 12, 2013
Filed under: Arts, Books, Novels
| Tags: classic literature, classic novels, classics, cozy classics, les miserables, moby dick, pride and prejudice
1 Comment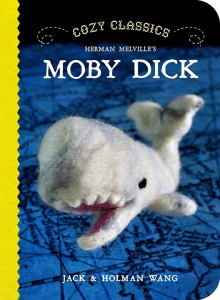 Who hasn't read a 1,488 page epic of the French Revolution and thought, there should really be a version of this for infants. Nobody. Finally, two brothers are filling the void of classic literature for children under the age of 3. Okay, all mockery aside this is actually seriously cute. (So cute I had to borrow the felt versions of Darcy and Bingley for the cover of our latest Kindle Fire competition.) Meet "Cozy Classics":
Brothers Jack and Holman Wang teamed up in 2012 to create Cozy Classics, an infant primer board-book series that adapts classic novels into twelve simple,  words that appear alongside photographs of handmade figurines. The brothers create the characters, sets, and props themselves through the painstaking process of needle-felting, a handcraft that involves the shaping of woolen fibers with a barbed needle. Each figure takes between eighteen and twenty-five hours to create. The first two titles—Herman Melville's Moby-Dick and Jane Austen's Pride and Prejudice—were released this past November by Vancouver-based Simply Read Books; the next release, a cozy take on Victor Hugo's Les Misérables, is forthcoming in April.
Here's a glimpse of each of Cozy Classics' titles so far, every page accompanied by its child-friendly word. Though the series may be developed for children, I have to say these might be too adorable (and adultly ironic) not to pick up for myself. Look for them in an Urban Outfitters near you soon.
To find out more about Cozy Classics, head to its website here. Still to come in Spring 2013, the Cozy version of War and Peace!
---