Posted: November 2, 2012
| Author: jhgardner
|
Filed under: Books, Novels, Top 10
| Tags: book tattoos, children's books, children's literature, literary tattoos, tattoos
|
Comments Off
Our favorite childhood books stay with us in our minds and our hearts forever. They're the reason why, mid-life, you can look at the bald patch of the man at your side and think only of the velveteen rabbit, with all his fur loved off. But the only way to really show your love for them is to have them permanently inked on your skin, as the folks below can attest to. Here's a round up of ten very devoted children's lit fans:
1. Beatrix Potter's Peter Rabbit
2. Stuart Little by E. B. White
3. Eloise
4. The Very Hungry Caterpillar
5. An amazing sleeve depicting the mad hatter scene from Carroll's Alice's Adventures in Wonderland
6. The opening lines of Watership Down
7. Matilda by Roald Dahl
8. Maurice Sendak's Where the Wild Things Are had two astounding entries, so we just had to credit both.
9. The Velveteen Rabbit (definitely a rabbit theme going on here)
10. The Chronicles of Narnia by C. S. Lewis
Oh and just for good measure because it'll make you smile…
A little game of Where's Waldo?
Explore more at Flavorwire's round-up, and tell us what book from your childhood you'd pay tribute to in a comment below.
---
Posted: October 16, 2012
| Author: jhgardner
|
Filed under: Authors and Poets, Books, Novels
| Tags: books, charlotte, charlotte's web, charlotte's web 60, children's books, children's literature, e.b. white, eb white, literature, novels, wilbur
|
1 Comment
How E.B. White loved spiders before the rest of the world fell in love with his.
Some children's books are truly timeless.
When you think of their titles, the very smell of their pages seems to seep from your memory, and you find yourself once again feeling those same emotions you felt on the first reading, or indeed any reading thereafter.
Charlotte's Web is one of those books.

E.B. White's classic tale has played a pivotal role in many a child's upbringing. In fact, in a Publisher's Weekly poll it was ranked as the most popular children's book ever published. Today marks its sixtieth year in print.
The tale is so familiar to so many of us that I hardly feel the need to raise a spoiler alert. All the same, don't read on if you don't yet know the ending…
The body of the novel may concern a pig, a girl, and a series of barnyard animals to fill the backdrop, but at its heart is a remarkable spider, Charlotte A. Cavatica. Though a spider to many may seem like an unlikely creature to feel empathy for, the author obviously saw differently.
Charlotte's Web had its beginnings in the Maine farm White ran with his wife Katherine Angell. One October day, White noticed a spider's web in the corner of his barn. He watched as, over a manner of weeks, the spider in it spread her net wider and wider, eventually laying a tiny egg sac at its center. The spider was never to be seen again. When the time came for White to leave Maine for New York (and the farm for his steady job at The New Yorker), "he put the sac in an empty candy box, punched some holes in it, and absent-mindedly put the box atop his bedroom bureau in New York."
Some weeks later, that precious egg sac began to breathe life. The author watched as tiny eight-legged spiders crawled out of the candy box, through the air holes he'd made for them.
White was delighted at this affirmation of life and left the hundreds of barn spiderlings alone for the next week or so — to spin webs from his hair brush to his nail scissors to his mirror — until, finally, the cleaning lady complained.
Thus also hatched White's idea for Charlotte's Web.
Interestingly, his fascination with and emotional attachment to spiders went back further than those first stirrings of the novel in 1949. White once wrote of the arachnids that "once you begin watching spiders, you haven't time for much else." Even one of his love poems to his new bride concerned a spider. This one he wrote in 1929 is titled "Natural History":
The spider, dropping down from twig,
Unwinds a thread of his devising;
A thin, premeditated rig
To use in rising.
And all the journey down through space,
In cool descent, and loyal-hearted,
He builds a ladder to the place
From which he started.

Thus I, gone forth, as spiders do,
In spider's web a truth discerning,
Attach one silken strand to you
For my returning.
So White was no novice in making a spider appear beautiful and regal rather than something to be feared. In Charlotte's Web, he instilled all of the attributes in Charlotte that made us fall in love with her; she was kind, honest, a truly loyal friend, and of course a great writer, too. It wasn't long before she spun a web around children's hearts everywhere.
And when we cried at Charlotte's death, White was right there with us.
So great was the author's love for his character that in 1970, when it came time for him to record the audio book, he had a difficult time reading the passage wherein his beloved spider passed. In the end, it took 17 takes for White to get through the following paragraph without his voice "cracking or beginning to cry."
The fairgrounds were soon deserted. The sheds and buildings were empty and forlorn. The infield was littered with bottles and trash. Nobody of the hundreds of people that had visited the fair knew that a gray spider had played the most important part of all. No one was with her when she died.
It wasn't the first time a reader cried over Charlotte, nor will it be the last. Wilbur may have been some pig, but Charlotte was certainly some spider, and White's story is one very special book. If those who remember her now have anything to do with it, Charlotte's story will be celebrated in another sixty years as one of the most beloved children's novels of our, or indeed of any time.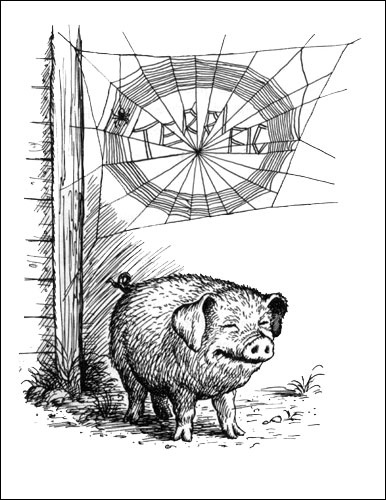 To hear White read the passage above, head to NPR's Morning Edition story, which includes an interview with Michael Sims, author of the biography The Story of Charlotte's Web. You can also listen to E.B. White read an excerpt of Charlotte's Web via an NPR recording at this link.
Charlotte's Web on eNotes:
and Q&A
---
Posted: September 13, 2012
| Author: jhgardner
|
Filed under: Authors and Poets, Books, Obituary
| Tags: children's literature, horror, mystery, roald dahl, short fiction
|
Comments Off
My childhood would have been so barren were it not for the words of Roald Dahl, and, of course, the whimsical scribbles by Quentin Blake that always accompanied them. The BFG, The Witches, George's Marvelous Medicine, Matilda… I, like children generations before and after me, devoured these stories, more ravenous than Augustus Gloop at a certain chocolate factory. Inevitably, Dahl became my very first favorite author. Today, on what would have marked this exceptional man's 96th birthday, a look back at the gifts he left to children's and adult's literature alike, through the eyes of one who read them…
When I first discovered Roald Dahl's stories, I knew only of his illustrated children's books. Even in that genre, his imagination was unparalleled; I pored over tales of a friendly giant, an enormous peach, a magical spell that makes tortoises grow, and a marvelous medicine. They were like nursery rhymes and fairy tales, only better–the kind where the wicked stepsisters would have their feet lopped off before being squeezed into the glass slipper, or where Little Red turns out to be a carnivorous villainess, whipping the wolf into a fur coat faster than the glint off a big bad tooth. The proper kind.
A little older, I turned to Dahl's autobiography, Boy: Tales of Childhood. Excerpts like "The Great Mouse Plot of 1924″ (in which Dahl and his boyhood friends place a dead mouse in a jar of gobstoppers belonging to the "loathsome" local sweet shop owner, Mrs. Pratchett) appealed to my youthful mischief-making, but the beatings and loneliness he described of boarding school sealed serious adults as the true villains of life. It became clear where the monsters behind Ms. Trunchbull and The Witches came from.
And still, my ideas of Roald Dahl evolved as I grew older. There were entire collections of macabre short stories I hadn't been allowed to touch–"The Great Automatic Grammatizator," "Man From the South," "Royal Jelly." All deserve to be read beneath the sheets with a flashlight and a pair of trembling hands. The messy ends of Dahl's characters and the shocking twists he wove give Poe's horror stories a run for their money, any day.
To his young readers, Dahl is like a childhood friend, a comrade in the denial to abandon whimsy in exchange for seriousness. Even in his own life, Roald Dahl seemed a sort of Peter Pan figure; a WWII fighter pilot turned MI6 spy, he crossed the globe like a classic adventurer, passing through exotic locations like Tanzania, Kenya, Egypt, Libya, and Iraq, of which he wrote about in another autobiography, Going Solo. As an undercover agent he rubbed elbows with fellow spy (and James Bond creator) Ian Fleming. Rumor has it they were commissioned to woo foreign diplomats' lonely wives in search of secret information. At times, his life seems the work of pure fantasy.
In later years, Dahl took to using a colorful gypsy wagon, parked on his back lawn, as his writing space. From there he wrote more children's fiction, like Danny, the Champion of the World and The Twits. He continued to turn out popular children's stories right up to his death in 1990, at the age of 74. It's from his posthumously published final work, The Minpins, that I take this passage, one of the quotes that seems to best epitomize the author's views on fantasy and life:
Above all, watch with glittering eyes the whole world around you, because the greatest secrets are always hidden in the most unlikely places. Those who don't believe in magic will never find it.
To have grown up with Roald Dahl is to have never truly grown up. Here's hoping we never have to.
Happy Birthday Roald Dahl!
As an extra treat, here's an interview Dahl gave shortly before his death. In it, he describes the riveting story of his entry into literature.
---