Posted: June 25, 2013
Filed under: Arts, Shakespeare, Teachers & Teaching
| Tags: a midsummer night's dream, hamlet, macbeth, plays, Shakespeare, Teaching, teaching Shakespeare, theater, troubadour theater company, troubies
Comments Off
This summer the Los Angeles based Troubadour Theater Company is reprising its role as masters of the Shakespearean mash up. Ladies and gentlemen, I give you A Midsummer Saturday Night's Fever Dream.
You may have guessed it, though you might not believe it: one theater company has poured all the funk, bellbottoms, and embarrassing dance moves of 70s disco into the world's most timeless romantic comedy ever to be written in iambic pentameter. But lest you think this is a joke, you should know that the Troubies (as they're affectionately known round these parts) are old hands at the genre. After all, these are the folks who brought you…
OthE.L.O., Fleetwood Macbeth, As U2 Like It, and every actor's dream Hamlet, the Artist Formerly Known as Prince of Denmark
---
Posted: June 17, 2013
Filed under: Arts, Writing
| Tags: before i die project, candy chang, community art, graffiti, ted talks, visual art
Comments Off
A few years ago, artist Candy Chang lost a good friend. The experience left her thinking a lot about death, what in her life was of value, what she wanted to do while she had time, and with whom she should spend those hours.  While she knew she wanted to define these objectives, Chang says that she "struggled to maintain perspective."  She wondered if others felt similarly adrift.
Chang noticed that there was an old, abandoned home in her New Orleans neighborhood, a perfect canvas for expression. She, along with a group of friends, painted one side of the home in chalkboard paint and created a "Before I die ___________________ " stencil:
Chang had no idea what to expect. But she and her friends attached little baskets of chalk to the sides and stepped away to wait and see:
To Chang's great delight and surprise, the very next day, " the wall was bursting with handwritten responses and it kept growing: Before I die I want to… sing for millions, hold her one more time, eat a salad with an alien, see my daughter graduate, abandon all insecurities, plant a tree, straddle the International Date Line, be completely myself…".
---
Posted: February 12, 2013
Filed under: Arts, Books, Novels
| Tags: classic literature, classic novels, classics, cozy classics, les miserables, moby dick, pride and prejudice
1 Comment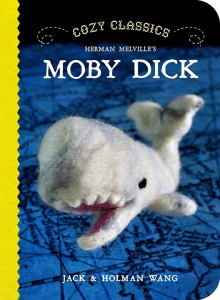 Who hasn't read a 1,488 page epic of the French Revolution and thought, there should really be a version of this for infants. Nobody. Finally, two brothers are filling the void of classic literature for children under the age of 3. Okay, all mockery aside this is actually seriously cute. (So cute I had to borrow the felt versions of Darcy and Bingley for the cover of our latest Kindle Fire competition.) Meet "Cozy Classics":
Brothers Jack and Holman Wang teamed up in 2012 to create Cozy Classics, an infant primer board-book series that adapts classic novels into twelve simple,  words that appear alongside photographs of handmade figurines. The brothers create the characters, sets, and props themselves through the painstaking process of needle-felting, a handcraft that involves the shaping of woolen fibers with a barbed needle. Each figure takes between eighteen and twenty-five hours to create. The first two titles—Herman Melville's Moby-Dick and Jane Austen's Pride and Prejudice—were released this past November by Vancouver-based Simply Read Books; the next release, a cozy take on Victor Hugo's Les Misérables, is forthcoming in April.
Here's a glimpse of each of Cozy Classics' titles so far, every page accompanied by its child-friendly word. Though the series may be developed for children, I have to say these might be too adorable (and adultly ironic) not to pick up for myself. Look for them in an Urban Outfitters near you soon.
To find out more about Cozy Classics, head to its website here. Still to come in Spring 2013, the Cozy version of War and Peace!
---